Tuđa sećanja: Veliki udeo u zbiru razglednica koje čuvam su razglednice mog dede koje je on čuvao pre mene. Neki fragmenti iz života moje porodice, koje danas razumem ili ne - zauvek su sačuvani na poleđini čestitki za Novu godinu, pozdravi sa putovanja, poneke intimne prepirke, gomila uspomena sa putovanja u vidu razglednica sa istorijski važnih mesta. Ima ih oko dve hiljade, a ja sam uspela da obradim nešto više od trista. Prevrtanje kroz takve artefakte porodične istorije, bilo je interesantno, emotivno, ali i važno - ne samo za razumevanje moje porodične istorije, već i generalno objašnjavajući mi, kako se za samo pola veka, načini komuniciranja, odvajanje važnih informacija - promenili.

Poslednji deo odnosi se na kolaže koji su proistekli iz različitih spojeva tih razglednica i postali statični printovi na tekstilu.
Memories of others: A large part of the postcard collection that I own - are my grandfather's postcards which he kept before me. Some fragments from my family's life, which I understand today or I don't - are forever preserved on the back of New Year's greetings, greetings from vacations, some intimate quarrels, a bunch of memories from holidays in the form of postcards from historically important places. There are about two thousand of them, and I managed to process a little more than three hundred. Turning through such artifacts of family history was interesting, emotional, but also important - not only for me, but also generally explaining to me how, in just half a century, the ways of communicating, separating important information - have changed. The last part refers to collages that originated from various joints of these postcards and became static prints on textiles.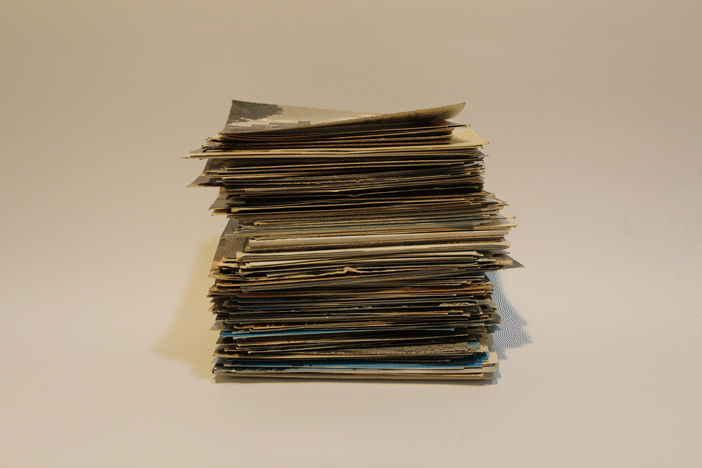 ''Puno pozdrava sa Visa,
Bisa!''

printovi na tekstilu, lan i digitalni print